Home
Welcome to the Official Rockbitch Archives and website...
If you search engine ROCKBITCH you get a lot of untruths and erroneous interpretations about who we were, what we did and why. This site is to put the record straight.
Maybe you knew of us at the time and were a fan, maybe you were quite the opposite! Maybe you've found this site by accident and never heard of us. Maybe you liked the music but not the sexuality, maybe you liked the tits and couldn't give a damn about the message! Whatever your maybe and whatever you think you know... HERE are all the writings and images that were previously in the Rockbitch members-only site. Here will be the Official archives, and all kinds of obscurities and delights.
Before you ask - No, Rockbitch will NOT be reforming and playing live, although as time goes on there will be the long awaited second album and new DVD available. A consolation!
Welcome old friends and fans and those who heard of Rockbitch through whichever underground gig or late night TV show, or sexual encounter. Welcome those who loved us from Alice Cooper to Annie Sprinkle.
Welcome even to those who misunderstood and hated us from Peaches to Blackie Lawless. We are still living the life and trying to open your minds...
Love, Babe
It is with great sadness that Rockbitch has to announce the loss of one of our dear friends & fan, who has been there from the beginning.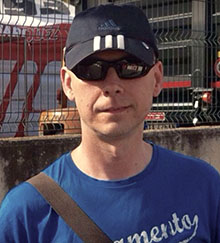 Charlie Moodie loved science, rational thought, cutting humour, good music and riding his motorbike. He was largely agnostic, but if any system of belief moved him, it was a resonance with the beating of pagan hearts. He was fascinated with his Nordic bloodline; his trip to the Orkney Islands off the Scottish North coast to experience the 'Up Helly Aa' festival was a deeply moving and significant event for him.
Charlie was always Charliebear to us. We knew him for over twenty years. We were shocked to hear of his death. We knew that a combination of things in recent years had hit him hard, amongst others; the passing of his beloved mother...the end of his work...some long running, awful investment problems...and the betrayal of some people he thought were his friends - had all combined to hit him hard. However, his continuing blithe and genial demeanour gave no hint of just how hard.
We last saw him in July when he stayed with us and attended an event we had organised. He seemed to be his usual self... polite, helpful, chatty, anecdotal, turning a joke here and there as usual. He was a private man who had shared many joyful and personal things with us over the years. We are all so very sorry that he was unable to share this pain in a manner that would have negated his eventual choice of suicide.
However, we respect his choice and honour his passing. Charlie was a sane, pragmatic, rational adult. He chose his exit, which although horrifying, was in all likelihood to him a taking back the reins of life by controlling the manner in which he exited it. I deeply and sincerely hope that in his final moments his mind was not full of pain and angst, but rather a glorious, battle cry of the heart as he leapt into the unknown - just like his Viking Ancestors of the past who threw themselves into the unknown and with whom he felt such resonance... So, when we heard, we honoured him in one small way but as his ancestors would have, and I think he would have liked... We raised our glasses, and our voices and drank to him.
To Charliebear.